There is no sugarcoating it: the Nullarbor is a harsh place smack dab in the middle of the Outback, but that's a part of its adventurous charm. If you're one of those enchanted by the feat that is crossing the Nullarbor, let us tell you: the journey and the sights that await are worth it! However, there are things you should keep in mind when crossing the Nullarbor to ensure you remain sage.
In our past blog posts, we have shared safety tips in all aspects: from driving, to camping, to the flora and fauna. There is one thing every traveler should keep in mind when crossing arid places: extreme temperatures. This is something that could potentially be dangerous (the extreme cases being heat stroke) but this is very easily taken care of, if you know what to do.
How to Prepare for Extreme High Temperatures
Stay out of direct sunlight.
If you're driving in the summer, make sure you don't skimp on the sunblock if you are driving with the windows down. Protect your skin, and seek shade when spending time outside of the car.
When you do take driving breaks, try to park your car in a shady spot.
Two liters a day is the advised intake for adults. If you're crossing the Nullarbor, make sure you have enough water in your cooler for everyone, and do not hesitate to stop over if you find yourself low on supply. Bring a cooler (for tips on how to keep a cooler temperature constant, check out this post), and keep your water cold and your focus steady!
When hiking or camping or trekking, make sure you have a bottle of water with you. Always bring more water than you think you need.
If you're traveling to the Nullarbor in the summer, wear light and loose clothing (permitting freedom of movement) and wear a hat!
Symptoms of Heat Stroke
It's important to recognise the symptoms of heat stroke and heat stress to be able to quickly do something about it. The adverse effects of high temperatures often begin with heat stress indicated by muscle pain and extreme perspiration. The moment these symptoms start to show, take time to rest and rehydrate.
Dehydration impacts a person's ability to think, which could be dangerous especially if you're behind the wheel.
Make sure you check your car as well: though the Nullarbor is frequented by fellow drivers, overheating is still a risk, and it's a situation you would not want to find yourself in if you happen to be travelling during the scorching midday heat.
Whether you're planning on visiting caves or riding the tides, stay hydrated and protect your skin from the bad sun!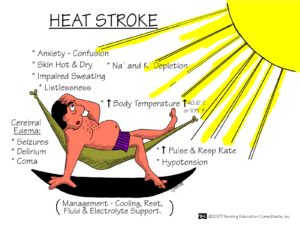 How To Prepare for the Cold Nullarbor Nights
How can you protect yourself from the Nullarbor's extreme night temperatures?
Since the Nullarbor is an arid area with low humidity, the temperatures at night could vary greatly from the temperature in the morning. Extra blankets would go a long way especially when camping or caravanning. If you are staying in one of our motel rooms, they have heaters and additional blankets for you!
If there are designated fire pits in your camp site, go ahead and build a fire! It will keep you warm, and would also keep insects and animals away from your tent. Roast marshmallows and tell stories – just remember to be a good campsite neighbor!
The Nullarbor is a wonderful place with a lot to offer. Extreme temperatures are a part of the things you have to deal with if you decide to push through with this once-in-a-lifetime adventure–and with the right preparation, a part of its rough charm.