For many, crossing the Nullarbor is one of the largest road trip adventures that they'll ever take. Canned food and quick snacks can be work okay, but if you're looking for healthier and more delicious meals and snacks, know that you have options!
Whether you're planning to stop for a while to enjoy a hearty meal instead of cold canned food, or looking for healthier alternatives to junk food while on the move, what you prepare right before the trip counts.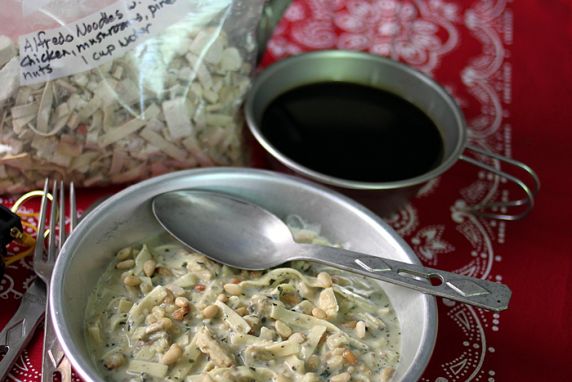 Eat Like Royalty While On The Road
You've been driving for hours and it's lunch, or dinner time. If you're pressed for time and setting up camp (and enjoying delicious camping food) isn't an option, or if you're with kids and want them to eat healthy meals even while on the road, packed food is the way to go.
Prepare meals that only require boiling water. Does Cous Cous with Chicken and Vegetable sound good for lunch? How about Creamy Alfredo Noodles with Chicken, Mushrooms, and Pine Nuts for dinner? If you are able to boil water, these meals are all yours to enjoy.
Store it in a cooler. A cooler provides a huge variety of healthy meals that you can eat on a quick stopover — basically, anything that fits in an airtight or vacuum-sealed container, such as this ingenious Jar salad is up for grabs. Here's a good cooler-packing tip: instead of packing the cooler with ice, freeze most of your juice boxes and water bottles — this saves you space and prevents your food from getting soaked up. For safety, stick to veggies, cheese and fruits; avoid packing raw meat.
Vacuum-seal it. Mix oatmeal with your favorite fruits to create a personalized breakfast/snack. Even entire meals could last for hours when vacuum-sealed.
Scrumptious Snacks
Go nutty. Nuts and seeds, such as almonds and sunflower seeds are healthier alternatives to the usual M&Ms and Doritos.
Go ranch. Vacuum-seal freshly sliced vegetables such as carrots and cucumbers, and pair it with ranch dressing or hummus (any of your favorite dips, really!)
Go cheesy. Low-fat, medium-hard cheeses such as string and cheddar cheese as well as mozzarella are your best bets during a long drive. Pair them up with your favorite crackers.
Go fruity. Vacuum-sealed apples, grapes and oranges will cater to your sweet tooth cravings. Feeling a bit adventurous? Mix it up with this tasty snack – Apple Slices with Peanut Butter.
Why not include these delicious meals while mapping your Nullarbor itinerary?
But if you're looking for a taste of home in the Nullarbor, do drop by the Nullarbor Roadhouse, and have a nice, hearty meal — Outback style. Contact us at Nullarbor Roadhouse to book an accommodation, or have any Nullarbor question answered. We're here to help!