In a world where travel information flows freely online, Twitter is one of travelling retirees' top resource for relevant and latest information on getting good travel deals and discovering new places to visit around Australia.
Don't know where to begin? Whether you're planning to go abroad or schedule a trip to the outback, we've compiled a list of the top grey nomads in Twitter to give you ideas for your next journey!
My Grey Nomads – @MyGreyNomads
My Grey Nomads' official Twitter account gives you the latest information on food, health, life, sports, technology and of course, travel news picked just for grey nomads! Maintained by Wag Herbert, My Grey Nomads is an e-magazine frequently updated with news, announcements, promos and articles helpful for those who are new to the grey nomad lifestyle.
Their travel section ranges from articles featuring an in-depth look into various tourist attractions around the world and practical advice to motivate the traveller in you. You can get alerts on their newest travel articles through Twitter, so follow them now!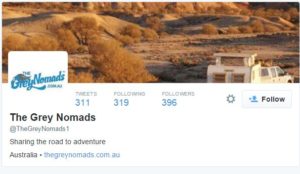 The Grey Nomads – @TheGreyNomads1
Have you ever wondered what it's like to join the grey nomad community in Australia? Let The Grey Nomads be your travelling companion to a fulfilling lifestyle on the road! Their official website is packed with resources you can trust when it comes planning, living and travelling in Australia like a true grey nomad. They have step-by-step guides on how to visit the best places Down Under, as well as an event calendar and nomad news to stay abreast of what the community is currently up to.
Other helpful sections in The Grey Nomad's official website include a listing of essential travel accessories and equipment, classifieds and forums where you can introduce yourself to fellow aspiring and experienced travellers. You can either follow The Grey Nomads on Twitter or sign up for their free e-newsletter to get fresh updates.
Life, Part II – @LifePartII
Jonathan Look, Jr. is a retired photographer and writer who continues to pursue his passion to travel around the world, as seen on Life Part II, Jonathan's personal blog and twitter account. Get inspired to step out of your comfort zone by reading Jonathan's various travel stories and short posts with breathtaking travel photos to boot.
Jonathan's Twitter account is filled with snapshots of his latest adventures that will get you craving to take on the road. Did we also mention that Jonathan is a member of the Professional Travel Bloggers Association and his blog has been awarded as one of the 29 Best Baby Boomer Travel Blogs for 2015? With Life, Part II, you're sure to get quality information and tips on retirement travelling.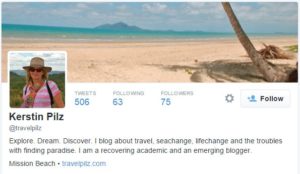 TRAVELpilz – @travelpilz
Kerstin Pilz is every lone traveler's go-to source for news and inspiration on getting anywhere in the world without anything but your courage and luggage. TRAVELpilz is Kerstin's channel to share short but informative tweets especially for retiring women who want to start their own adventure today.  
Kerstin's posts are also full of reflections on what she learned about the culture, lifestyle and reality of the different places she has explored. Let TRAVELpilz encourage you to explore, dream and discover the hidden beauty of this world.
Starts at 60 – @Startsatsixty
Starts at 60 is the Australian online portal made just for the retiring community in OZ. Their Twitter account is loaded with insightful thoughts and pretty photos of everything a grey nomad would be interested in. Starts at Sixty definitely has food, travel, lifestyle, money matters, retirement living and entertainment covered just for you.
Rebecca Wilson, founder of Starts at 60, has really been successful in finding and writing content exclusively for aging yet active travellers, and you can access all the Starts at 60 team's latest finds by following them on Twitter.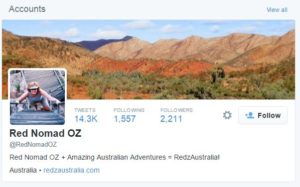 Red Nomad OZ – @RedNomadOZ
Marion Halliday's official Twitter account is famous among daring grey nomads for one reason: it's an excellent resource base for making your own epic adventure for Aussie Loos! Marion offers an honest account of the highlights and lowlights of her Australian travel adventures to every Outback Territory.
And the Red Nomad has definitely been to a lot of places — from Yourambulla Caves to cane toad racing and dodging the dangerous Outback fauna, Marion promises to help you get through your journey with her tips and stories, so make sure to connect to the Red Nomad OZ now.
These travellers on Twitter prove that it's never too late to see the wonders of our planet. Get your dose of travel tricks and tips from these fellow grey nomads to begin your amazing expedition.
Need practical tips and inspiring travel ideas when visiting the Australian Outback? Contact us here at Nullarbor Roadhouse; we'll be happy to help you out!