Are you the kind of traveller who gets motivated to visit places because of the local cuisine? If that's the case, then Eyre Highway has got it packed for you!
Eyre Peninsula is renowned as the source of the freshest seafood in Australia, and there are lots of restaurants offering a wide range of meals that are native to the area. Don't have much time to look around? No worries — we did the food sampling for you! Simply affordable yet delicious, we've listed down the best restaurants along Eyre highway.
Ceduna Oyster Bar (Opening Hours: 9:30am-7:30pm)

This photo of Ceduna Oyster Bar is courtesy of TripAdvisor
Don't miss Eyre Peninsula's specialty — dive into the stream of high-quality seafood in the world-famous Ceduna Oyster Bar! For $12, you can slurp on a bucket of freshly-shucked oysters or get your sashimi craving fix by ordering Port Lincoln Tuna au naturel.
For those seeking the premium seafood experience, ask for King George Whiting, which is served battered and fried with chips. There are also mouthwatering alternatives, such as prawn and snapper quiche with salad for travellers who want to stay healthy on the road.
Mocean Cafe Restaurant (Opening Hours: 10:00am-3:00pm)

This photo of Mocean Cafe Restaurant is courtesy of TripAdvisor
What looks like an enormous shipping container from the highway is actually a cosy cafe in disguise! Head on to Mocean cafe restaurant before starting your morning adventure, so that you'll find out why many people consider this place as an excellent stop for morning tea and lunch. The restaurant is also known for serving the best coffee and cakes in Streaky Bay.
While eating, enjoy the sound of relaxing pipe music and a splendid view of the bay and jetty. You can also feel the sea breeze while surrounded by Moroccan-inspired lanterns on the wrap-around balcony.  
Del Giorno's Cafe (Opening Hours: 7:30am-9:00pm)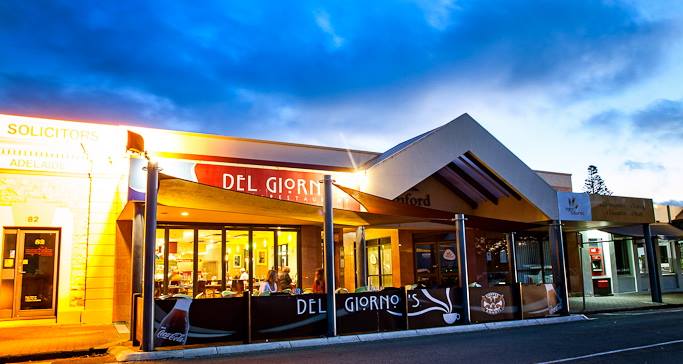 Are you suddenly craving pizza or pasta in the middle of an exhausting journey? Treat yourself to a lavish eating experience at Del Giorno's Cafe. Located on the foreshore at Port Lincoln, Del Giorno's cafe boasts a diverse menu including seafood meals, meat dishes, tap beers and even wine. There's also the "Specials Board" featuring local seasonal seafood, changing every two to three days.
Nullarbor Roadhouse Restaurant (Opening Hours: 6:00pm-9:30pm)

This photo of Nullarbor Roadhouse is courtesy of TripAdvisor
After spending the whole day exploring the stunning attractions in the Eyre Peninsula, don't you want to just sit back, relax and eat meals that remind you of home? Seek comfort and enjoy the rest of the evening after a rough day in the wild by dining in our restaurant.
We offer the best combination of seafood and meat cooked in different styles, as seen in our menu. Our visitors love having crumbed prawns, a bowl of steakhouse chips, chicken schnitzel and creamy vanilla ice cream on the same table! You can also cap off the day with the best beer in the Nullarbor plain — served cold only in our restaurant.
All these delectable meals await you in your trip to Nullarbor plains, so what are you waiting for? Fill yourself with only the best and authentic meals by eating in these top restaurants along the Eyre highway!
Make your food trip in the Nullarbor a memorable one! Contact us at the Nullarbor Roadhouse to find out more about the sumptuous Eyre cuisine.
Source:
"Restaurants in Eyre Peninsula and West Coast." Lonely Planet, n.d. Web. 2 October 2015.