Can't get enough of seafood? If you answered yes to this question, then the annual Ceduna Oysterfest is perfect for the seafood enthusiast in you!
The West Coast town of Ceduna is home to Australia's largest oyster festival — Ceduna Oysterfest — celebrated every SA Labour Day Long Weekend. Read on to know more about Ceduna Oysterfest, a grassroots festival that features the Far West's renowned seafood industry.
Shucking Only the Freshest Oysters for 25 Years
The first Oysterfest was organised by Ceduna locals, who thought of using oysters as the theme for an annual festival that can generate interest in the local oyster industry and bring the community closer at the same time.
The first Ceduna Oysterfest proved to be a success, contributing to the growth of tourism in the town. Vendors who participated in the festival were able to sell 800 dozen oysters, and tourists continue to come back every year to get their dose of the best oysters Down Under. The revenues continue to grow exponentially over the years — with 1,900 dozen sold at last year's festival.
Eat and be Entertained
At the oyster festival, thousands of freshly-shucked oysters from Smoky Bay and Denial Bay are served both raw and cooked, complemented with a glass of preserved wine or a cold bottle of beer. During this signature event for the town, punters and vendors at the Ceduna foreshore sell thousands of oysters at discounted prices to travellers from different parts of Australia and the world.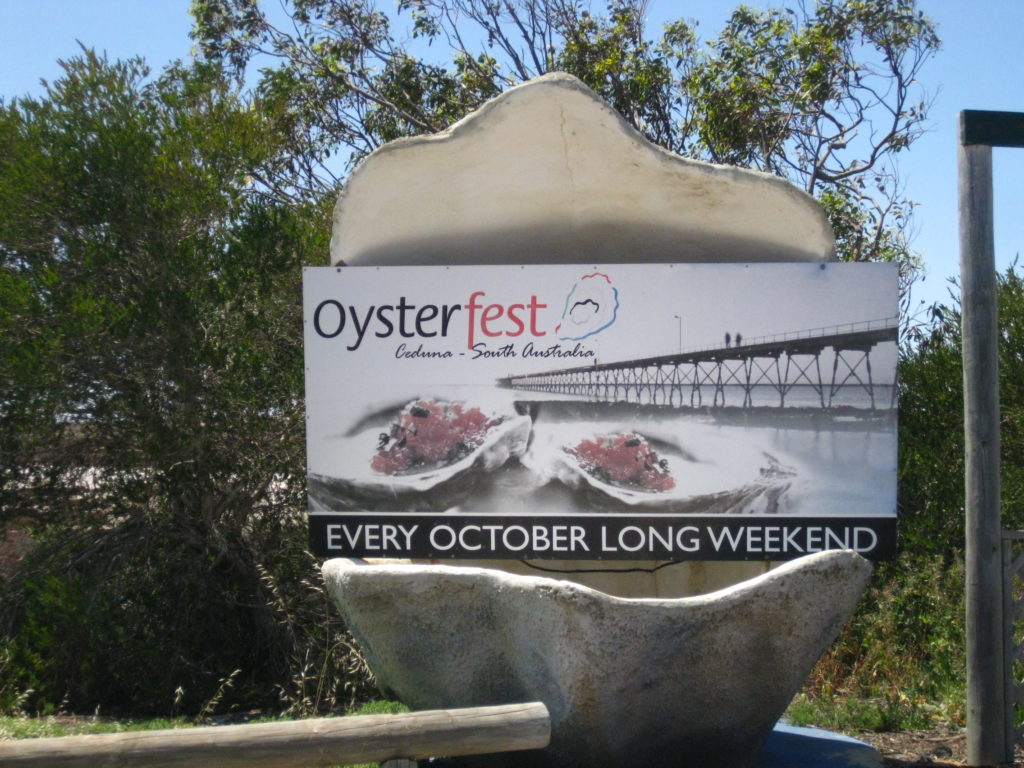 The Oysterfest is certainly not without entertainment, though. Special guests at the Ceduna Oysterfest usually include magicians, comedians, celebrity chefs and other local acts showcasing their talent in the festival. There's simply no room for boredom, as there are also music concerts, art contests and a street parade to keep your family members and friends entertained. Other festival highlights include the traditional seafood cook-off and the oyster shucking and eating competition.
How to Get to Ceduna from Nullarbor Roadhouse
You can easily venture off the Eyre Highway for a fascinating and worthwhile drive to Ceduna. From Nullarbor Roadhouse, you'll have to pick up a permit from the White Well ranger station to continue driving along the highway. This won't be a boring ride as you'll come across the Outback's various attractions, such as the fishing haven of Fowlers Bay and the Yalata Aboriginal land. Passing by Penong, you'll be able to see windmills and visit the Cactus Beach. Don't forget to make your stop to Denial Bay before you finally make it to the lively town of Ceduna.
Thanks to the commitment of the local community and sponsors, the Oysterfest remains free of entry fees! Visit the oyster capital of Australia in Eyre peninsula and get a taste of freshly-shucked Oysters all year round.
Are you a fan of food and festivals? Contact us at the Nullarbor Roadhouse to learn more about the latest events in South Australia!
References:
Images: